With guppy you can add on air graphics and control score, cards, game time, team line-up, substitution and own advertising via a graphical interface.

You can use the output URL in a streaming software
like
Open Broadcaster Software

or
XSplit Broadcaster

as an browser source and put it on your live video and stream it to Youtube, Facebook or other streaming provider.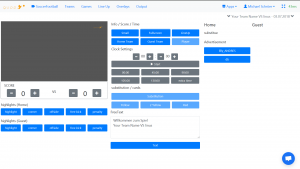 register now for free !
scoreboard version 2 beta.

Loading ...
we are happy to inform you when we have added new features. Here you can sign up for the newsletter.