guppyi scoreboard – Control graphic ads for your livestream online

With guppyi scoreboard GUI you can control graphics inserts like the score, cards, time, team line-up, substitutions and own ads via a graphical interface and stream them to the Internet or display them on a scoreboard. Below is an example of the scoreboard as you know it from football broadcasts on TV.







---
News and innovations
And so you come in just a few steps to your scoreboard
Step 2:

After you have registered you will receive a confirmation email to unlock your account (Please also look in the Spam folder of your email program)
Then you click the link in the email and you can log in to your Sports Scoreboard.
Any questions? Everything is explained in the video tutorial 01
Step 3:

First, you have to create your teams in the scoreboard
Step 4:

Now you have to create a game in the scoreboard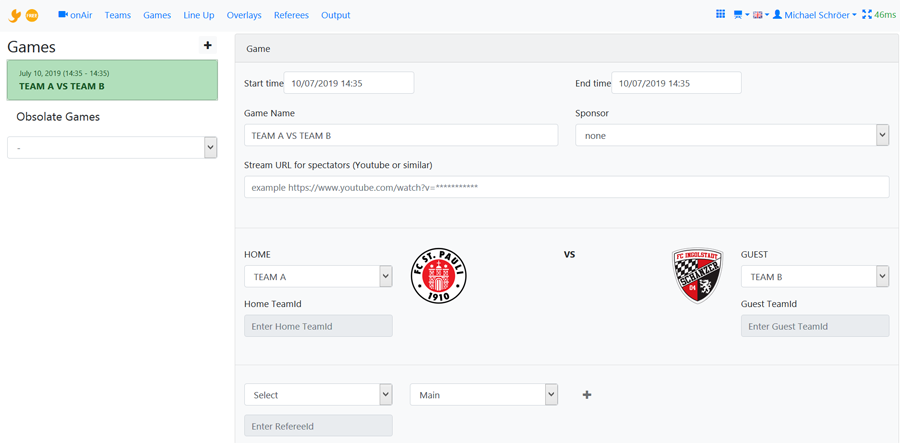 Video Tutorial 03 shows you how it works
Step 5:

To output the scoreboard you have to generate an output URL from the scoreboard. You can then use these in a streaming software, e.g. Open Broadcaster Software or XSplit Broadcaster as a browser Source on your live video and then stream to Youtube, Facebook, etc. (If you need your own streaming server, we are happy to help info@guppyi.com).
Or enter the URL in the browser to display the scoreboard on a screen or big screen in the stadium.

This is described in detail in Video Tutorial 05
Step 6:

To control the scoreboard output, click on onAir and control all the graphic overlays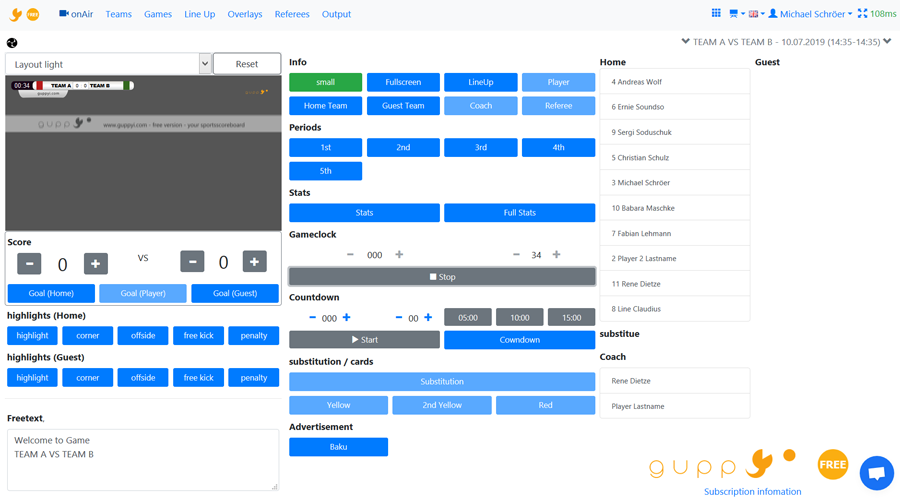 Example Output of the scoreboard to a live stream
Here are all videos in which we explain the operation of the Sports Scoreboards step by step.
Three tutorials without a speaker:
Eight video instructions for the scoreboard with a speaker (language german)
Und zu guter Letzt ein guppyi Talk mit mir (Michael) und Rene
register now for free !
scoreboard version 2